Vitality - Large 400g Multipack (3)
Vitality - Large 400g Multipack (3)
There are no reviews for this product.
Leave a review
SAVE £4.50 AND ALSO GET FREE SHIPPING
Vince the Vet Veterinary Formula Vitality is a 100% organic nutrient dense supplement which nourishes and supports health in every part of the body, including the skin, coat, nerves, heart, liver, kidneys, bowels and other organs.

HELPS WITH:
lack of energy, vitality or stamina
sensitive or itchy skin (helps reduce the sensitivity of the immune system to allergens)
tissue regeneration and repair
convalescence from illness or injuries (a concentrated source of nourishment for the body's natural self-repair mechanisms)
appearance (high quality protein supports improved muscle definition) 
coat quality
a return to full health following recovery from any period of weight loss or being in poor condition
ensuring a complete, balanced diet is fed, which supports optimum health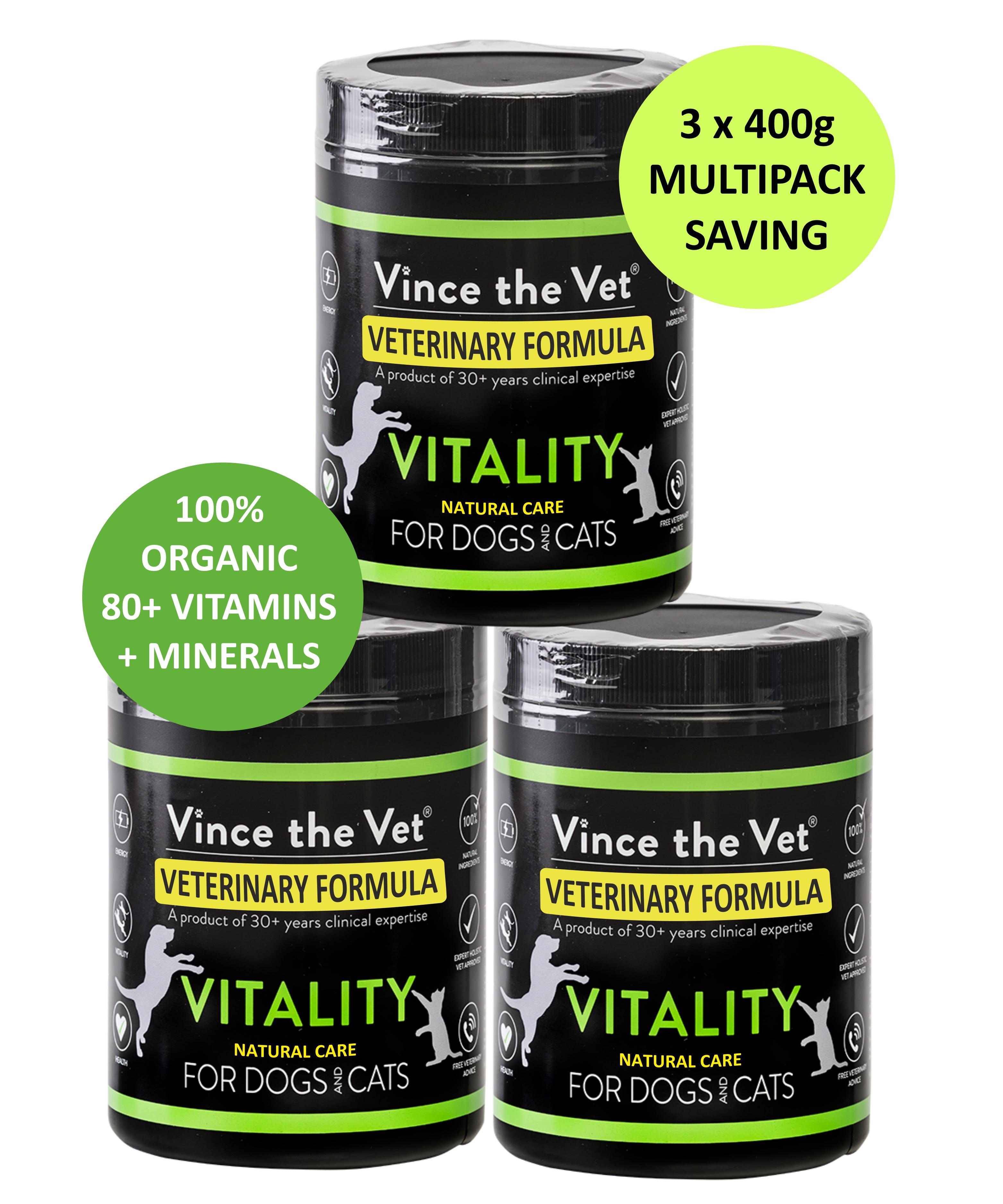 Vitality - Large 400g Multipack (3)
Recommend to a friend
Ask a question about the product
Enter your question below
Previous Questions
Q:
Hi there I am trying to decide which products to get and whether it's possible to give more than one of your supplements at a time for various issues? I have two 7 year old Ragdoll cats. My boy sadly has IBD. We have also been exposed to mold and I think he is affected as am I. We are not on raw yet but I am trying. He is on some homeopathic medicines which have helped. There is still some sickness and occasional diarrhoea. My holistic vet says he doesn't need any extra vitamins but I am sure home cooking destroys a lot of the vitamins and he recently tested low for folate. He has done well with liquid homeopathic drops but powders must be introduced incredibly slowly. He has also shown some urinary issues but only in testing not in observing him in the litter box. One of your customers said vitality helped her IBD cat. Would really appreciate your thoughts on whether this would be my best option. Other cat (female) may have arthritis- she is struggling to get a poo out in one go. She uses 3 litter trays and sometimes there is just paw prints. Both normal vet and holistic vet say it is not a constipation or digestion issue. Was going to try the joints supplement for her? She has just started on moxxor, so not sure if she could have both products together? My apologies for long message, we really are all in a pickle and would appreciate any help you can give.
A:
Hi Sue,
All our products are designed to complement each other, so that they can be combined in whatever way is best for a particular pet, to support optimum health and quality of life. And if any advice is ever needed on what to choose and how to do this, we are always more than happy to help.
The most important thing when supplementing the diet of a pet with health issues of any kind, is to only introduce one at a time, and to start with just a 1/4 teaspoon or so initially. Then, if all is going well, the amount can slowly be increased over the following weeks until the suggested daily level is being given (divided between meals).
This is gentle on the digestive system and also avoids a pet being put off their food because it smells or tastes unusual. It's also the best way to confirm that a supplement suits a dog or cat, and is healthy and nutritious to give long-term.
With regards to Vitality, most dogs and cats need multivitamin, mineral and trace element supplementation these days because the food chain is not as rich in these as it used to be. In addition to this, the level of nutrients the body needs to stay healthy in the face of modern day stress and pollution is much higher. Adding Vitality to the diet helps to bridge this gap, by making sure that essential micronutrients which need to be present in the diet each day (because the body can't store or manufacture these for itself) are supplied. This is even more important when there is evidence that the digestive tract is not assimilating nutrients from food effectively - which is often the case when blood folate and B12 levels are low.
IBD (Inflammatory Bowel Disease) as you know, is a descriptive term rather than a specific diagnosis, which means that various parts of the digestive tract are inflamed for some reason. This can be due to dietary sensitivities, parasitic infections, autoimmune diseases and a range of other conditions. It is best to work with your vet to address these and other possible underlying causes for the best possible results.
Such an approach typically includes the following:
Identifying and avoiding dietary allergens.
Supporting the gut microbiome with prebiotics (Digestion) and probiotics that have proven to be effective.
Ruling out worm infections as a contributory factor - which can be done with this kit.
Providing a rich supply of essential vitamins, minerals and trace elements in an easy to digest and assimilate form, such as Vitality.
Additional information:
Joints is the supplement of choice for maximising flexibility and mobility.
When stiffness is severe and / or long-standing, giving Joint Support too, further eases discomfort and aids ease of movement.
These can be bought as a bundle here.
Both Joints and Joint Support are safe to use alongside any other natural products, and medication prescribed by vets.
Q:
Hi, I'm looking after a nearly 12yr old Labrador who has just recently started eating soil on our walks (maybe 6 months ago). I've been looking after him for the last 5 yrs so know him well. Owner doesn't think much of it, but I'm concerned it's a mineral deficiency and would like to support him if possible. Would this supplement be suitable to try and see if he stops eating soil? I've got him for the next 6 weeks, so hopefully that would be time to see a difference? Thanks.
A:
Hi Katie, yes this is the best supplement for ensuring that many of the vitamins, minerals and trace elements which the body needs in the diet each day are supplied.
A typical Labrador would require 3 teaspoons daily, divided between meals. It is advisable however, to give half this amount to start with to allow the digestive system time to adapt to a richer diet. After 7 days, if the stools remain well-formed and health otherwise good, this can be increased to the full amount. The powder can be mixed into any wet dog food, or even a little live, plain yoghurt. Do let us know how you get on.
The details
DIRECTIONS

Add the suggested amount to the diet daily, divided between meals. 

If a pet has sensitive bowels, it is better to give half the usual quantity or less to begin with, and then - if the stools remain well-formed and health otherwise good - increase to the full amount over a few days. 

INGREDIENTS

A specially formulated blend of organic Spirulina and Chlorella.

Typical analysis:

Crude protein: 67-69%; Crude fibres: 6%; Crude oils and fats 1%; Crude ash: 5-6%

Product description:

A natural supplement designed to complement a complete, balanced diet. 
DELIVERY & RETURNS
Click here to see shipping rates at a glance.
Read our policy on refunds and returns here.
Customers who bought this also bought