Joint Support 50ml
raiting star
raiting star
raiting star
raiting star
raiting star
"I wanted to take a minute to thank you for your miraculous Joint Support drops. My little fourteen and a half year old 'Corgi/ Chihuahua/ Beagle/ God only knows what' mix, Steve Miller, banged his paw while jumping into the car ten days ago. He was in real distress, couldn't bear weight on it all, was screaming every time he got up to move and we were naturally super worried. Having had a disastrous experience with anti-inflammatories previously, and knowing that my local vet is rather keen to dish them out, I decided to put my faith in rest, warm wraps and Vince the Vet Joint Support drops and take it day by day. Steve has been getting Vince the Vet Joints mobility powder in his meals for a year or so anyway, and it has always kept him in good shape for a little old long-bodied dog. Knowing that the your products never fail us, I was optimistic. As soon as I started using the remedy, I could see remarkable things happening. I am not exaggerating when I say that the effect was more powerful than any medication I have ever seen. By the third dose, Steve was able to get up unaided. By the end of day two, he was walking and weight bearing without a grimace. I was blown away though, when Steve was completely back to normal, running like a BOSS yesterday around the field, not even aware of his leg or the fact that ten days earlier he'd carried it like a limp rag. I know that people assume natural remedies take a while to work, but this was astonishingly quick to take effect. Thankyou so much for making such an amazing product and for giving concerned dog owners like me a side-effect-free answer to pain and mobility." Penny Miller Desperate Dogs All-Inclusive Holistic Boarding Facility (www.desperatedogsusa.com) Founder and Program Director, Frankie and Andy's Place Holistic Senior Dog Sanctuary (www.frankieandandysplace.org)
raiting star
raiting star
raiting star
raiting star
raiting star
My dog has stiffness in his toes and cannot tolerate vet prescribe medicines. Have tried most joint supplements without any great difference, but this has made a massive difference. He has it 3 times a day, and this has enabled him to play with his ball (he?s a total ball junkie) and train with a ball as a reward, this was an activity that I had to really restrict. I?m still very careful but it?s lovely to see him more comfortable. Highly recommend.
raiting star
raiting star
raiting star
raiting star
raiting star
We had been using the Vince the Vet Joints supplement for about 2 months when we started using this product. We had already seen an improvement in our 10 year old Border Collie cross. but this remedy made an immediate impact. Our walks became longer and much more energetic. It appeared to knock 5 years off the dogs age. I might even try it myself!
Leave a review
1 x 50ml bottle of JOINT SUPPORT liquid remedy
unique Veterinary Formula remedy developed over 25 years
proven in clinical veterinary practice
100% natural ingredients
specially formulated to soothe sore joints, support joint repair and aid ease of movement
HELPS WHEN PETS ARE:
stiff
convalescing after sprains, strains and surgery, such as cruciate ligament repair
sore following overexertion
finding it painful to move
restless when lay down because of joint discomfort
ADDITIONAL SUPPORT:
For maximum mobility and joint health, use in conjunction with Joints, which provides the nutritional building blocks the body needs to form the healthiest possible joints.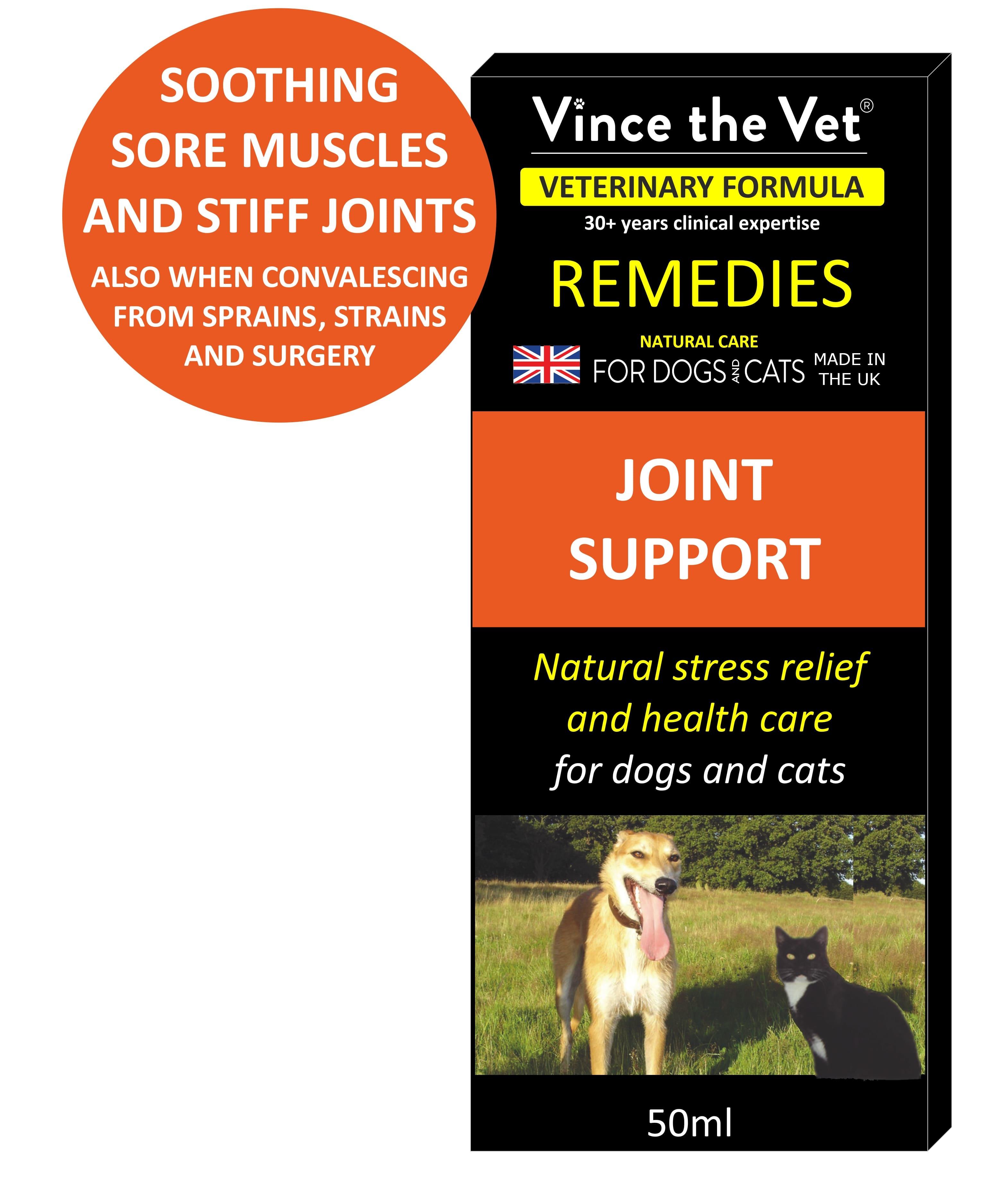 Joint Support 50ml
Recommend to a friend
Ask a question about the product
Enter your question below
Previous Questions
Q:
Should I use this together with Joints Powder?
A:
For the best possible results, yes.
Q:
I have very recently started using the digestive drops and I have come back to get some more and some other ranges but I am very confused as I can't see any drops and the alternative products - I can't tell are they powder or pills? My dogs are very fussy with both so I was hoping to get drops.
A:
Hi Jane, all the remedies are in liquid form.
These are supplied in 50ml dropper bottles, so that a few drops can simply be added to food as directed.
The supplements are all powders, and are supplied in small and large tubs of the specified weight in grams. The appropriate amount can be mixed into any wet meals.
If you scroll down to the heading 'THE DETAILS' on the left hand side of each product page, and click on the + to expand the hidden panel, the information about the make up of each supplement or remedy can be found there.
Q:
Hi , I am looking for a joint supplement for my 8 year old labradoodle that weighs 40kg . She has TTA surgery last year so has a metal plate in her knee . She has arthritis in this knee . Is this something she can have long term ? My dog has just recovered from a stomach ulcer caused by meds. I'm started her on Youmove but it upsets her tummy and the GLM powder makes her itch . Is this gentle on her tummy and if so is it double the dose to start ? Thank you
A:
Good morning Andrienne, thank you for your enquiry.
Joints is the perfect supplement in these circumstances. It provides the body with the nutrients it needs to build and repair ALL joint structures, including muscles, tendons, ligament, bones, fibrous tissues, cartilage and joint lubricating 'oil'. It is very gentle on the stomach, and there is no need to give double the amount to begin with. Improvements in joint comfort and mobility are typically seen in within a few weeks. If there is still a need for additional relief after a month, giving the Joint Support remedy alongside Joints, soothes sore tissues and further aids ease of movement.
For more information on aiding recovery following ACL rupture, take a look at this blog.
Q:
Hi, I have two dogs 8kg and 28kg, small one is overly active and no visible issues with her previous knee surgeries from 6 years ago, 28kg had knee surgery 3 months back and is having problems since, atm she has a clicky knee. So I'm hopeing this stuff helps. How much would I need to buy to supply both dogs on a monthly basis please? Thank you.
A:
Hi Damien, thank you for your enquiry.
The optimum dose of the Joints powder is 1 teaspoon per 10kg daily, divided between meals. And so you would be using just under 4 teaspoons daily - 1 for the smaller dog, and 3 for the larger girl. A 400g tub supplies approximately 100 teaspoons, and so would last around 4 weeks (25-28 days). The Joint Support remedy, would last 6 months or more, as the dose is only 2-3 drops 3 times daily, regardless of size. And these can be added to food, and drinking water.
We hope this helps, and do let us know how you get on.
Q:
My 4 y.o. Spinone has a suspected partial cruciate tear which the vet is treating with metacam and careful on-lead exercise. Would the joint remedy be safe to use alongside the metacam or should I wait until he's finished the prescribed course? Ps I ordered the joint support powder last week not realising that you do a combined package so I've given myself a good slapping for not noticing!
A:
Hi Dawn, thank you for your enquiry.
Yes, all our supplements and remedies are safe to use alongside any medication prescribed by vet. And the sooner they are started the better when any injury has occurred. Guidance on how to provide the best possible nutritional support following cruciate ligament damage can be found here.
Q:
I have a 14 year old Westie who has just been put on Librella to aid his arthritis. He has been on various joint supplements for years. Is your product ok for him to use or is it too late for him to gain any benefit? As an elderly boy, he has days where he is like a spring chicken ( especially when he picks up the scent of a cat or fox) but has days where a short walk will suffice. Thank you!
A:
Hi Jane, it's never too late to try Joints and the Joint Support remedy. And both are safe to use alongside any medication prescribed by your vet.
It's best to use the two products in combination for the best results in dogs over 10 years of age, and who are either very stiff, or who have struggled with their mobility for some time.
Joints provides all the nutrients the body needs to build the healthiest possible cartilage, muscles, tendons, ligaments, bones, fibrous supporting tissues and joint lubricating 'oil'.
Joint Support soothes sore tissues, aids the body's natural adaptive and recuperative powers, and further aids ease of movement. See Coco's story here.
Together they provide the best possible support for maximum mobility. Do let us know how you get on.
Q:
Do you ship to the USA?
A:
Hi Sheila, yes we do. USA can be selected as the delivery destination from the drop down postcode list at checkout,
Q:
What is the difference between the supplement for joints and the remedy for joints?
A:
Hi Melanie,
Joints
provides the nutrients the body needs to build the healthiest possible joints, including cartilage, ligaments, tendons, bones, fibrous supporting tissues, and joint lubricating ''oil'.
The
Joint Suppor
t remedy soothes sore musculoskeletal tissues and further aids ease of movement.
Given together, the supplement and remedy support maximum mobility.
They can be bought together as a bundle for a saving of £6 here.
The details
DIRECTIONS

Give 2-3 drops 3 times daily, by gently dabbing on the outside of the lips with a clean finger.

Alternatively, add to a morsel of food. 

Also add a little to drinking water daily. 

Can be continued for as long as necessary, or indefinitely.

INGREDIENTS

Spring water and alcohol (25%) plus extracts of Calcium phosphate, Harpagophytum, Symphytum officinale and Wild rosemary.

PRECAUTIONS

Store in a cool, dark place away from strong odours.

Keep out of sight and reach of children.

To be used as a dietary supplement and not as a substitute for appropriate veterinary care where necessary.
DELIVERY & RETURNS
Click here to see shipping rates at a glance.
Read our policy on refunds and returns here.
Customers who bought this also bought