Stomach and Bowel Support 50ml
Stomach and Bowel Support 50ml
raiting star
raiting star
raiting star
raiting star
raiting star
Gracie's digestive system is normally robust, but occasionally she has a bout of diarrhoea (probably due to finding something undesirable to eat when out on a walk). A few drops of Stomach and Bowel Remedy clears it up in no time! Thank you, Vince
raiting star
raiting star
raiting star
raiting star
raiting star
Connie had a mild tummy bug for a few days with runny stools. She also went off her food and wouldn't eat treats! Most unlike her fat little self! After a day of Vince the Vet's Stomach and Bowel drops she has normal motions, is picking up toys, has had a chew and wolfed down a bowl of Vince the Vet s Raw Chicken this am.
Leave a review
1 x bottle of liquid remedy
unique Veterinary Formula remedy developed over 25 years
proven in clinical veterinary practice
100% natural ingredients
HELPS MAINTAIN NORMAL, HEALTHY:
gastrointestinal function
digestion
peristalsis (intestinal motility)
ESPECAILLY BENEFICIAL FOR PETS PRONE TO:
lip smacking
empty swallowing
bringing up bile
reflux
scavenging 
stomach and bowel upsets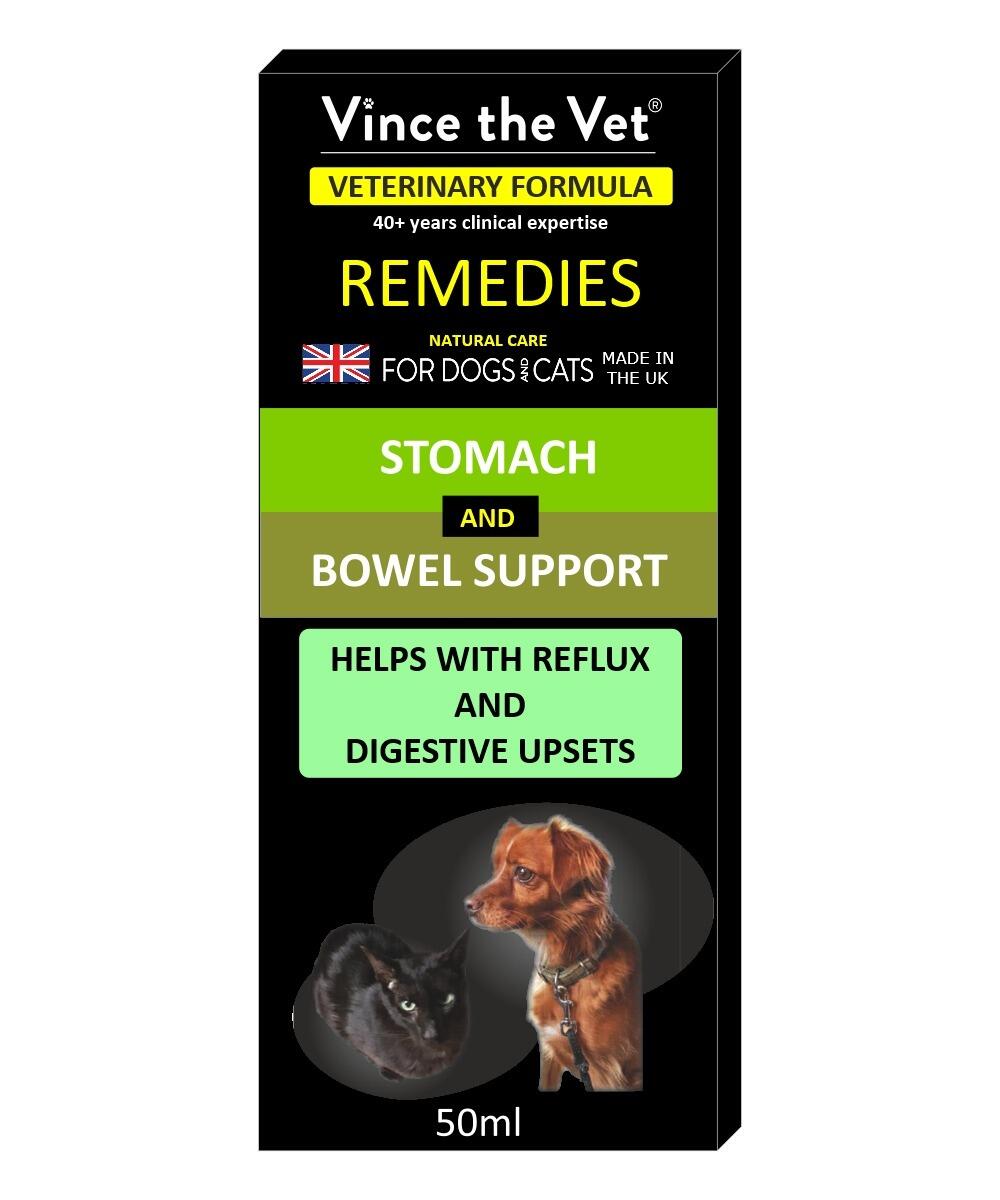 Stomach and Bowel Support 50ml
Recommend to a friend
Ask a question about the product
Enter your question below
Previous Questions
Q:
Is this product good for a dog that has recently suffered, and been treated/hospitalised, for pancreatitis. He is nearly 12 and has been healthy otherwise. He is making a good recovery and is very fit for his age.
A:
Hi Dorothy, yes it is. Simply give 2-3 drops 3 times daily on a morsel of food to support normal peristalsis and gastrointestinal function.
Once he has fully recovered giving Digestion and a good probiotic will further aid digestion too.
Q:
I am currently using digest from your company can this be used alongside or instead of it
A:
Hi Carole, these two products complement each other and so can be used together.
Q:
How do I give this? To a westie that has reflux and lip smacking.. he eats then after he has tummy ache, he stretches and moans for about 20 mins until he has burped.. Thankyou
A:
Give 2 - 3 drops 3 times daily on a teaspoon of raw or cooked meat.
The details
DIRECTIONS

Can be given every 30 - 60 minutes following scavenging, or at the first sign of any digestive upset. 

Use daily to help maintain normal GI function if needed.

Continue for as long as necessary. 

Also consider adding Vince the Vet DIGESTION to your pet's diet each day.

INGREDIENTS

Spring water and alcohol (25%) plus extracts of Glycyrrhiza, Magnesium carbonate, Malticaria chamomilla, Yellow Jasmine and Zingiberis.

PRECAUTIONS

Store in a cool, dark place away from strong odours.

Keep out of sight and reach of children.

To be used as a dietary supplement and not as a substitute for appropriate veterinary care where necessary.
DELIVERY & RETURNS
Click here to see shipping rates at a glance.
Read our policy on refunds and returns here.
Customers who bought this also bought