Ultimate Anxiety Relief & Behaviour Improvement 50ml
THE SOLUTION

Vince the Vet SOUND SENSITIVE and FEARS AND ANXIETIES:

calm fight / flight reactions
relieve anxiety and stress
reduce sensitivity to triggers
increase receptivity to learning

Used daily for long enough, alongside positive, reward based training exercises, they are highly effective in helping most dogs learn new, healthier patterns of behaviour.

NOTE

For long-standing or severe anxiety, reactivity and stress, the remedies typically need to be continued for 3-6 months or more, until any improvements seen become firmly established.

It is important to be aware however, that not every dog will respond to the remedies, as the causes of stress / fight-flight behaviours are many, and it is not possible for a single product to address all of these. This is particularly true for animals who have been rescued, or have experienced significant trauma in their lives.
Ultimate Anxiety Relief & Behaviour Improvement 50ml
There are no reviews for this product.
Leave a review
NATURAL RELEIF FOR ANXIOUS, REACTIVE AND RESCUE PETS - ALSO BOOSTS TRAINING RESULTS 
1 x 50ml bottle of liquid remedy
unique Veterinary Formula remedies developed over 40 years
proven in clinical veterinary practice
100% natural ingredients
Used for long enough, alongside positive reward based training, this remedy reduces anxiety, reactivity and sensitivity to triggers for stress. 
It also increases receptivity to learning new, healthier patterns of behaviour. 
HELPS WITH:
anxiety
reactivity towards people, dogs and other animals
stress
socialisation
problem behaviours
fear of being left alone
anxiety related destructiveness and self-trauma 
an oversensitivity to noise, including loud bangs, clattering and clangs, doorbells, knocking, drilling, dogs barking, traffic and others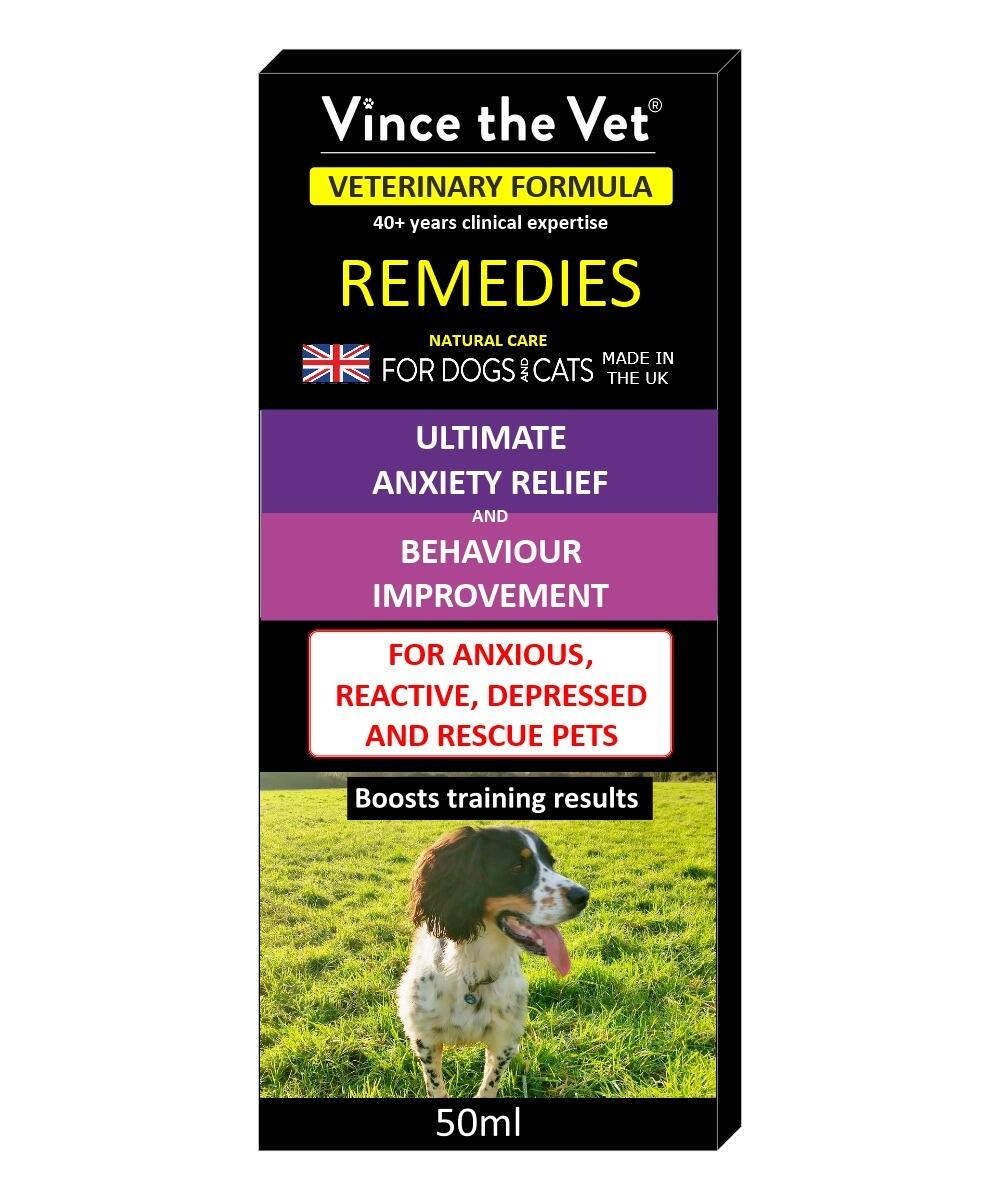 Ultimate Anxiety Relief & Behaviour Improvement 50ml
Recommend to a friend
Ask a question about the product
Enter your question below
Previous Questions
Q:
Can i ask why you use alcohol in your stress product when it is known that any amount of alcohol ingestion in cats is extremely toxic.
A:
The alcohol (which is organic, although not stated on the label) is a necessity as a preservative to ensure the product is sterile.
It makes up 25% of the remedy as listed under the ingredients.
The volume of the average drop of water is approximately 0.05ml (or 5 hundredths of a ml).
25% or 1/4 of this is alcohol which equals 0.0125 or just over a hundredth of a ml.
Added to drinking water as suggested this becomes even more minute - to the point of being undetectable.
Several drops added to a morsel of food typically supplies less than 2- 3 hundredths of a ml as the alcohol quickly evaporates. And so the amount of alcohol actually ingested, is miniscule, and of no consequence to pets at all, when used as directed.
I hope this helps.
The details
DIRECTIONS

Give 2 - 3 drops on a morsel of food 3 times daily.

Also sprinkle on your dog's bedding and in places they like to go when feeling insecure.


Continue for as long as necessary in conjunction with positive reinforcement..




INGREDIENTS

Spring water and alcohol (25%) plus extracts of:

Argentum metallicum, Avena sativa, Capsicum, German chamomile, Gold, Passiflora, Scutellaria lateriflora, Silica, St John's wort, Trytophan, Valeriana officinalis and Yellow jessamine 

PRECAUTIONS

Store in a cool, dark place away from strong odours.

Keep out of sight and reach of children.

To be used as a dietary supplement and not as a substitute for appropriate veterinary care where necessary.
DELIVERY & RETURNS
Click here to see shipping rates at a glance.
Read our policy on refunds and returns here.
Customers who bought this also bought