Immunity - Large 400g Multipack (3)
WHY CHOOSE IMMUNITY?

unique Veterinary Formula developed over 25+ years
proven in clinical veterinary practice
100% natural, human food grade ingredients
no fillers, preservatives, synthetic ingredients or chemical additives of any kind
specially formulated to provide maximum nutritional support to the entire immune system

HOW LONG WILL THIS LAST?




| WEIGHT KG | DAILY AMOUNT | DAYS 400g TUB LASTS* |
| --- | --- | --- |
| 20 | 2 teaspoons | 50 |
| 30 | 3 teaspoons | 33 |
| 40 | 4 teaspoons | 25 |

*Approximately

NUTRIENTS SUPPLIED

Amino Acids (18) - Alanine, Arginine, Aspartic Acid, Cysteine, Glutamic Acid, Glycine, Histidine, Isoleucine, Leucine, Lysine, Methionine, Phenylalanine, Proline, Serine, Threonine, Tryptophan, Tyrosine and Valine


Fatty Acids (6) - Omega-3 1, Omega-3 3, Omega-6 9, Omega-9 16, Alpha-linolenic Acid, Eicosapentenoic Acid

Vitamins (11) - A (antioxidant carotenoids including Beta Carotene, Fucoxanthin and Violaxanthin), B1 (Thiamine), B2 (Riboflavin), B3 (Niacin), B9 (Folate), B12 (Cobalamin - plant form), C (Ascorbic Acid), D (Cholecalciferol), E (Tocopherols), H (Biotin) and K (Menadione)

Minerals and Trace Elements (67+) - including Calcium, Magnesium, Nitrogen, Phosphorus, Potassium, Sodium, Sulphur, Antimony, Barium, Boron, Cerium, Cobalt, Copper, Germanium, Gold, Iodine, Iridium trace, Iron, Lanthanum, Lithium, Manganese, Molybdenum, Palladium, Platinum trace, Praseodymium, Rhemium, Rubidium, Ruthenium, Scandium trace, Selenium, Silicon, Silver, Thallium, Tellurium trace, Titanium, Vanadium and Zinc

Enzymes - Lipase, Carbohydrase and Protease

Dietary Fibre - including the polysaccharides Algin, Fucose, Fucoidan, Mannitol, Methylpentosans, Laminarin, and Mannuronic Acid

Chlorophyll

Polyphenols - Caffeic Acid derivatives, Caftaric Acid, Chlorogenic Acid, Cynarin, Echinacoside and Cichoric acid
Immunity - Large 400g Multipack (3)
There are no reviews for this product.
Leave a review
SAVE £4.50 AND ALSO GET FREE SHIPPING
Vince the Vet Veterinary Formula Immunity provides a rich supply of nutrients which support:
a healthy balanced immune system
strong, natural defences against pathogenic microorganisms 
the body's ability to regenerate and self-repair
HELPS PETS PRONE TO:
itching or allergies
inflammation
repeated infections or bouts of being unwell
warts or other growths
injuries or ill-health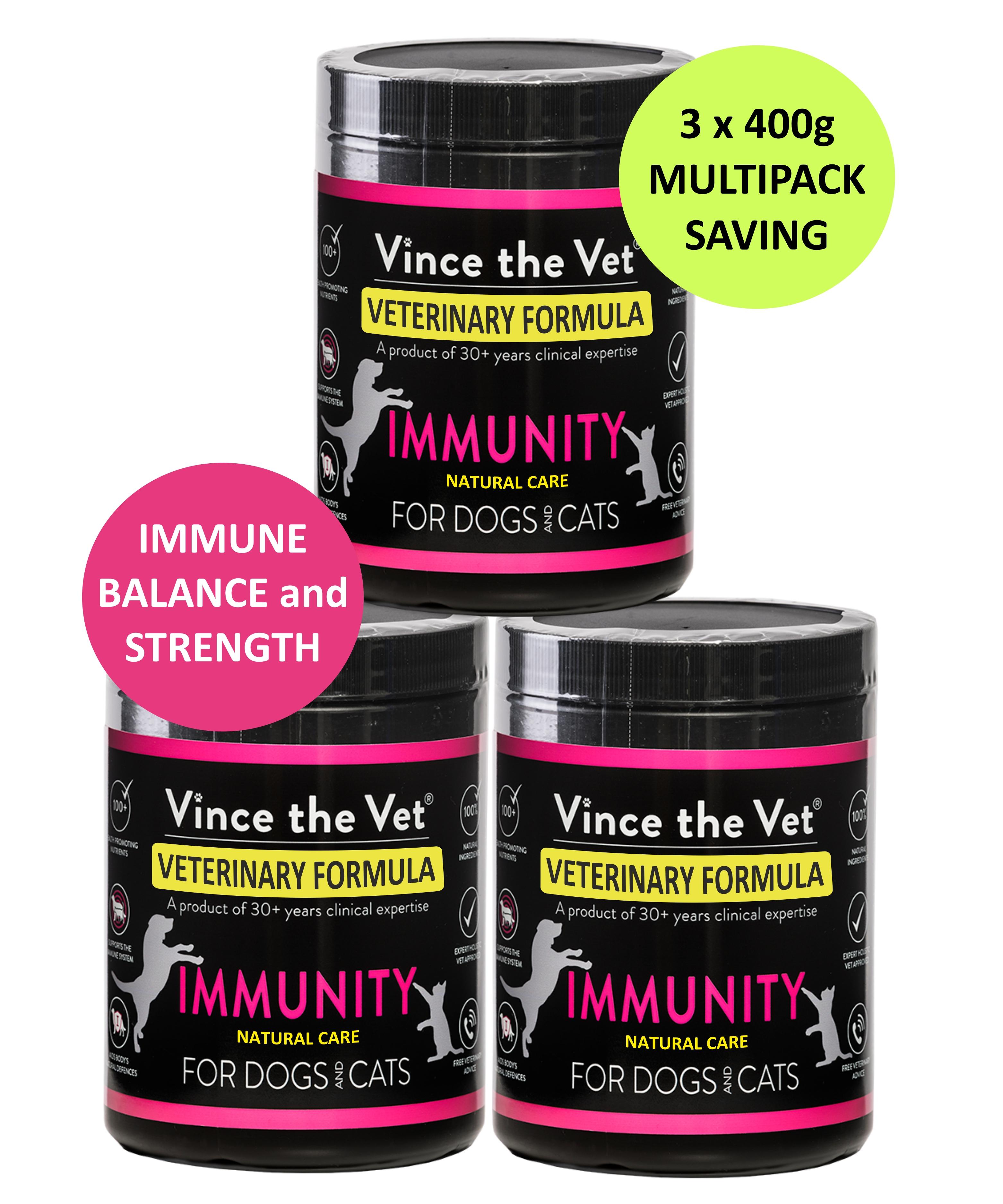 Immunity - Large 400g Multipack (3)
Recommend to a friend
Ask a question about the product
Enter your question below
Previous Questions
Q:
Hi, My 5 year old English bulldog suffers terribly with itchy skin. She's been on apoquel since we got her in June and it works amazingly. I've heard that this immunity powder is good for pets with itchy skin. Would you recommend? It'd be lovely if we could try to get her off the apoquel, or even just on a reduced dose. Thanks
A:
Hi Laura,
Immunity given long-term (6 months or more) supports a more balanced and less reactive immune system. And where this is successful, sensitivity to dietary and environmental allergens is gradually reduced, along with itching and irritation of the skin.
It is important to be aware however, that helping pets with multiple allergies is difficult because most have a genetic predisposition for the immune system to overreact to a range of airborne and food substances (allergens). These include house dust, dust mites, pollen, fungal spores, human dander and a wide range of ingredients in the diet. And as many of these allergens are widespread, constant skin inflammation is the result.
Conventional veterinary treatment largely relies on the use of antibiotics to combat infections and immunosuppressive drugs (typically steroids, Apoquel, Atopica, Cytopoint and others) to stop inflammation. Although this can provide relief, it does carry the risk of significant and potentially serious side-effects if continued long term.
Nutritional support can significantly improve quality of life of many of these pets (not all), by calming and balancing the immune system over time. However, even when successful, it can take 6 months or more, and requires perseverance and close attention to detail.
If supplementing with Immunity alone doesn't help therefore, the next step is to take a whole diet approach, using one of the options below:
Additional information:
Q:
Would you say this would be a good thing for my 10 year old Springer. He had adrenal cancer in 2020, then last May was diagnosed with transitional cell carcinoma. He also has chronic arthritis in a lot of his joints and has been on Vince the Vet Joints for 3 months now. He is getting lots of little lumps appear all over. They are fatty lumps, but have read that poor immune system can cause it. He's on Onsior, amantidine and gabapentin for arthritis/pain at the moment. He's happy in himself and seems more comfortable since he's been on the Joints formula, so hope that Immunity may help too.
A:
Hi Beverley,
Immunity is the supplement of first choice whenever any kind of growths appear in the body, as it provides invaluable support to the immune system and helps maintain quality of life for as long as possible - as in Lexi's case.
In these circumstances it is best to give half the suggested amount daily, divided between meals for the first 7 days. If the stools remain formed and health otherwise good, this can be increased to the full amount in week 2. Then, if the stools remain formed and health otherwise good, give double the quantity going forward for maximum health benefits.
Additional information:
The details
DIRECTIONS

Add the suggested amount to the diet daily, divided between meals. 

If a pet has sensitive bowels, it is better to give half the usual quantity or less to begin with, and then - if the stools remain well-formed and health otherwise good - increase to the full amount over a few days. 

INGREDIENTS

A powdered blend of Echinacea purpurea plant, Echinacea purpurea root and organic Kelp.

Typical analysis:

Crude protein: 4%; Crude fibres: 66%; Crude oils and fats: <5%; Crude ash: 17%

Product description:

A natural supplement designed to complement a complete, balanced diet. 
DELIVERY & RETURNS
Click here to see shipping rates at a glance.
Read our policy on refunds and returns here.
Customers who bought this also bought