Natural Worm Control and Detoxification Support 50ml
THE IMPORTANCE OF REGULAR CLEANSING

Modern day dogs and cats come into contact with a wide range of intestinal parasites, and an increasing number of chemicals every day.

These include those:

found in parks

on pavements

in products and furnishings used in and around the home

in preparations used for pets (spot-ons, chemical wormers and shampoos, for example) and elsewhere.

The longer these remain in the body, the greater the risk that well-being and quality of life will suffer as a result.
Natural Worm Control and Detoxification Support 50ml
There are no reviews for this product.
Leave a review
HELPS TO REDUCE RELIANCE ON CHEMICAL WORMERS  
unique Veterinary Formula remedies developed over 25 years
proven in clinical veterinary practice
100% natural ingredients
These remedies help to maintain an intestinal environment which is hostile to worms and other gut parasites. 
They also aid the elimination of toxins, waste products and drug residues from the body.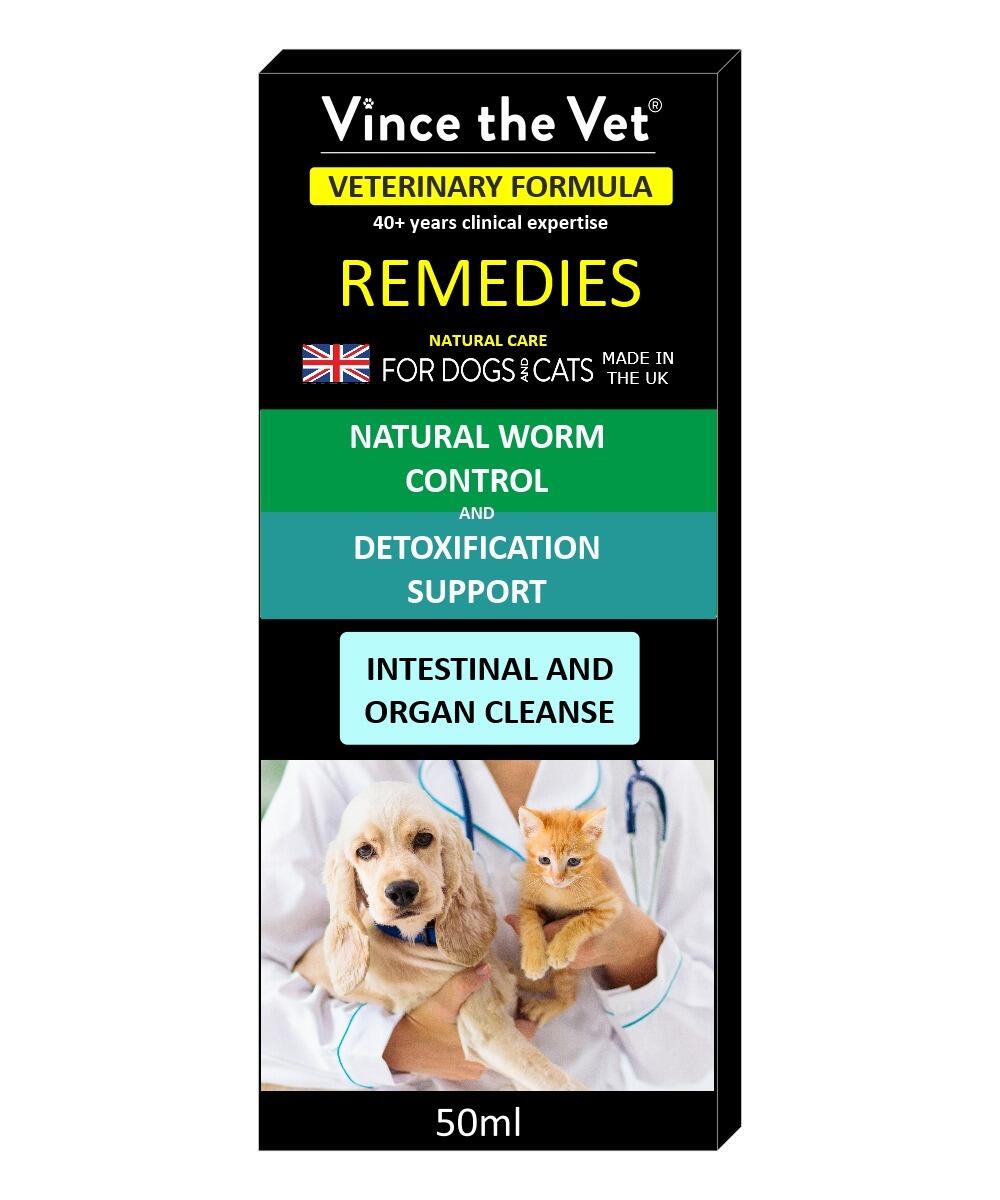 Natural Worm Control and Detoxification Support 50ml
Recommend to a friend
Ask a question about the product
Enter your question below
Previous Questions
Q:
Hi My boy has vermx crunchies and his worm count in September was clear. Would this product be a safe addition to vermx and would the organ cleanser help after his general anaesthetic for teeth cleaning?
A:
Hi Jill, yes Natural Worm Control and Detoxification is fine to use alongside any other product. It is also beneficial to give after any anaesthetic / medical procedure to aid the elimination of drug residues from the body.
Q:
My girl has pancreatitis would the organ cleanse be ok for her to have? Many thanksgiving Suzanne
A:
This remedy provides gentle, natural support to the organs of detoxification, and as such is safe to use alongside veterinary treatment when digestive issues of any kind are present.
Q:
We have a 9 week old Borderdoodle puppy. When should we be using worming products. And when can we start using the natural worm control.????
A:
Hi Jennifer, the Natural Worm control remedy can be used as soon as a puppy is weaned. Give 1 - 2 drops 3 times daily on a teaspoon of fresh food, for the first week in every month. Don't forget to screen for worms every 3 months using this kit.
The details
DIRECTIONS

Give 2 - 3 drops on a morsel of food 3 times daily, for the first 7 days of each month.

Use as part of a natural pet care regime, which includes 3 monthly stool screening for intestinal worms and lungworm using one of our kits.




INGREDIENTS

Spring water and alcohol (25%) plus extracts of:

Carduus marianus, Cucurbita, Garlic, Echinacea purpurea, Eupatorium purpureum, Granatum, Hydrastis, Nettle, Teucrium marum and Thlaspi bursa pastoris 




PRECAUTIONS

Store in a cool, dark place away from strong odours.

Keep out of sight and reach of children.

To be used as a dietary supplement and not as a substitute for appropriate veterinary care where necessary.
DELIVERY & RETURNS
Click here to see shipping rates at a glance.
Read our policy on refunds and returns here.
Customers who bought this also bought