Recuperation 50ml
raiting star
raiting star
raiting star
raiting star
raiting star
Following her dental, Zelda was very lethargic, quiet and stopped interacting with our other dogs. Within a few days of giving her the Recuperation remedy and Vitality supplement, she was lively, happy, and more than back to her old self, with a very shiny coat! She started interacting again with our other dogs - even playing when before she just sat with them!
raiting star
raiting star
raiting star
raiting star
raiting star
When Dylan overdoes it chasing squirrels, Recuperation drops work well!
raiting star
raiting star
raiting star
raiting star
raiting star
I have a cat who had a kidney removed on the kidney support. It?s not as easy to tell with this one, but it was a major operation. He had a week of Recuperation and then I started him on Kidney Support straight away and so far he?s behaving as though the op never happened! Thanks so much for making such a difference to our animals
Leave a review
1 x bottle of liquid remedy
unique Veterinary Formula remedy developed over 25 years
proven in clinical veterinary practice
100% natural ingredients
specially formulated to support a rapid return to full health following injuries, surgery or ill-health
HELPS WHEN PETS ARE:
convalescing from accidents, wounds, illness and operations
being neutered
having physiotherapy, canine massage, hydrotherapy and TTouch - to boost the benefits of these and other, similar forms of therapy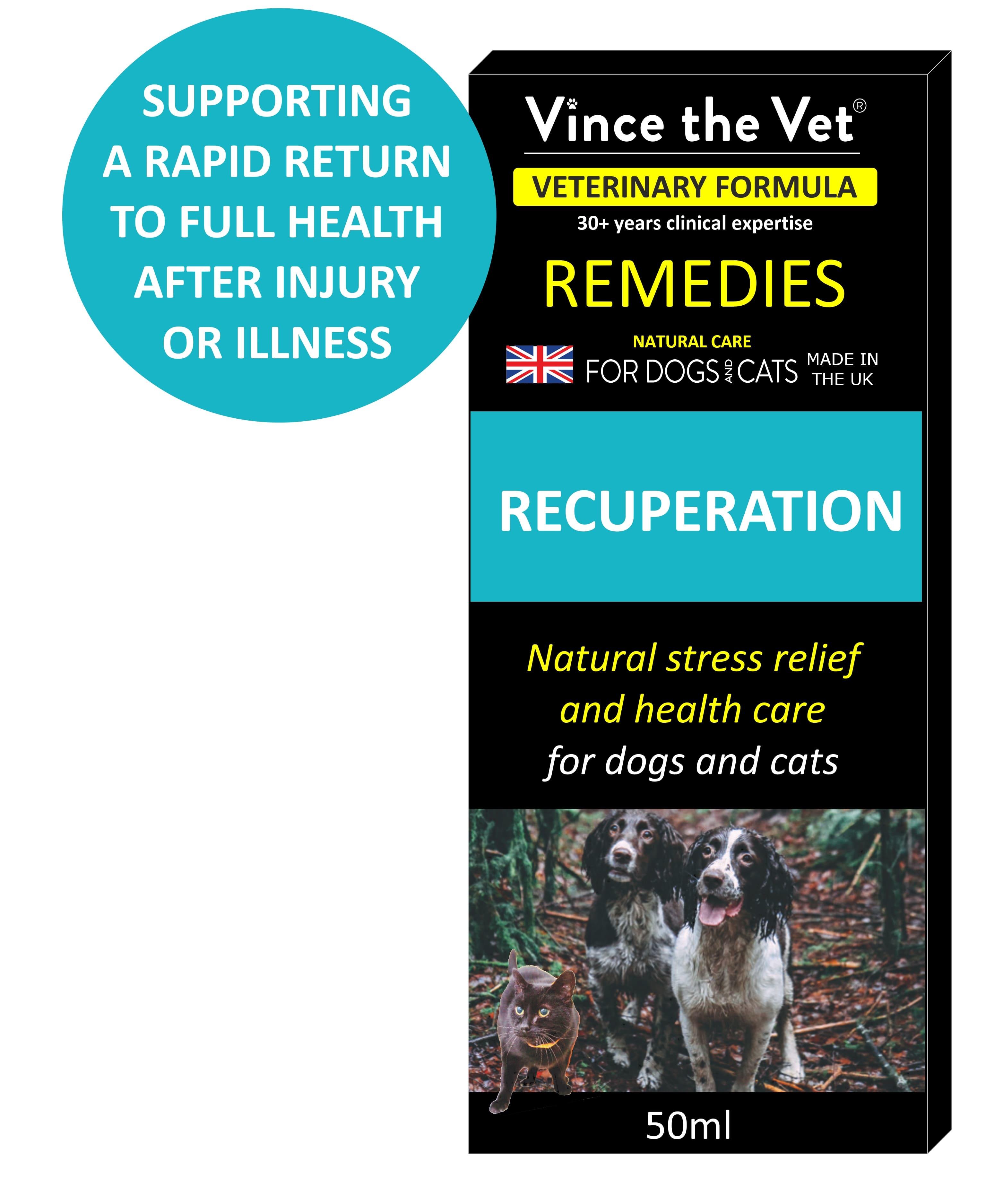 Recuperation 50ml
Recommend to a friend
Ask a question about the product
Enter your question below
Previous Questions
Q:
My 4 y.o. Spinone has a suspected partial cruciate tear which the vet is treating with metacam and careful on-lead exercise. Would the joint remedy be safe to use alongside the metacam or should I wait until he's finished the prescribed course? Ps I ordered the joint support powder last week not realising that you do a combined package so I've given myself a good slapping for not noticing!
A:
Hi Dawn, thank you for your enquiry.
Yes, all our supplements and remedies are safe to use alongside any medication prescribed by vet. And the sooner they are started the better when any injury has occurred. Guidance on how to provide the best possible nutritional support following cruciate ligament damage can be found here.
Q:
I have very recently started using the digestive drops and I have come back to get some more and some other ranges but I am very confused as I can't see any drops and the alternative products - I can't tell are they powder or pills? My dogs are very fussy with both so I was hoping to get drops.
A:
Hi Jane, all the remedies are in liquid form.
These are supplied in 50ml dropper bottles, so that a few drops can simply be added to food as directed.
The supplements are all powders, and are supplied in small and large tubs of the specified weight in grams. The appropriate amount can be mixed into any wet meals.
If you scroll down to the heading 'THE DETAILS' on the left hand side of each product page, and click on the + to expand the hidden panel, the information about the make up of each supplement or remedy can be found there.
Q:
Do you ship to the USA?
A:
Hi Sheila, yes we do. USA can be selected as the delivery destination from the drop down postcode list at checkout,
The details
DIRECTIONS

Give 2-3 drops 3 times daily, by gently dabbing on the outside of the lips with a clean finger.

Alternatively, add to a morsel of food. 

Also add a little to drinking water daily. 

Continue until fully back to normal. 

Repeat whenever necessary. 

INGREDIENTS

Spring water and alcohol (25%) plus extracts of Bellis perennis, Calendula, Herb of rue, St John's wort, Stellaria media and Symphytum officinale

PRECAUTIONS

Store in a cool, dark place away from strong odours.

Keep out of sight and reach of children.

To be used as a dietary supplement and not as a substitute for appropriate veterinary care where necessary.
DELIVERY & RETURNS
Click here to see shipping rates at a glance.
Read our policy on refunds and returns here.
Customers who bought this also bought