Vitality - Large 400g Multipack (3)
Vitality - Large 400g Multipack (3)
There are no reviews for this product.
Leave a review
SAVE £4.50 AND ALSO GET FREE SHIPPING
Vince the Vet Veterinary Formula Vitality is a 100% organic nutrient dense supplement which nourishes and supports health in every part of the body, including the skin, coat, nerves, heart, liver, kidneys, bowels and other organs.

HELPS WITH:
lack of energy, vitality or stamina
sensitive or itchy skin (helps reduce the sensitivity of the immune system to allergens)
tissue regeneration and repair
convalescence from illness or injuries (a concentrated source of nourishment for the body's natural self-repair mechanisms)
appearance (high quality protein supports improved muscle definition) 
coat quality
a return to full health following recovery from any period of weight loss or being in poor condition
ensuring a complete, balanced diet is fed, which supports optimum health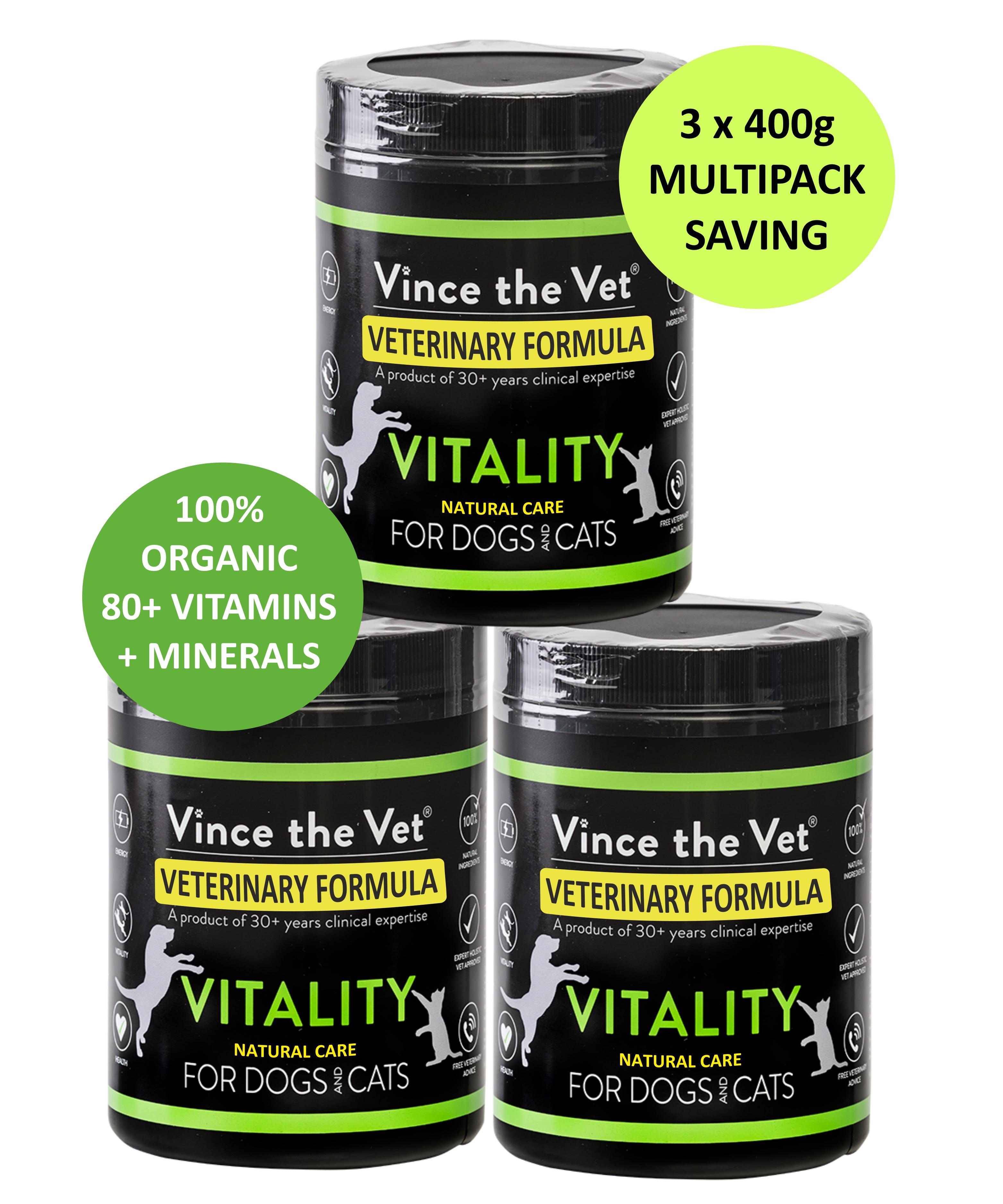 Vitality - Large 400g Multipack (3)
Recommend to a friend
Ask a question about the product
Enter your question below
The details
DIRECTIONS

Add the suggested amount to the diet daily, divided between meals. 

If a pet has sensitive bowels, it is better to give half the usual quantity or less to begin with, and then - if the stools remain well-formed and health otherwise good - increase to the full amount over a few days. 

INGREDIENTS

A specially formulated blend of organic Spirulina and Chlorella.

Typical analysis:

Crude protein: 67-69%; Crude fibres: 6%; Crude oils and fats; Crude ash: 5-6%

Product description:

A natural supplement designed to complement a complete, balanced diet. 
DELIVERY & RETURNS
Click here to see shipping rates at a glance.
Read our policy on refunds and returns here.
Customers who bought this also bought