WHY MANY RESCUE DOGS SUFFER FROM BEHAVIOURAL PROBLEMS

The first 12 months of life, and especially 6 to 12 weeks of age, is an extremely important developmental period in a puppy's life.

During this time the foundation of many behavioural patterns are laid down which will greatly influence how the adult dog will react to the world around them, including:

the sights, sounds and smells of modern day life
the environment (buses, bikes, vacuum cleaners, unfamiliar objects and locations)
new situations and activities
children, adults and other animals

If a young dog experiences positive interactions in a wide range of circumstances, a confident, self-assured, well-mannered dog is often the result.

If on the other hand, a puppy, has little or no exposure to many of the things he or she will encounter in the outside world, or suffers the loss of a close human / animal companion / their home, an anxious, easily stressed, depressed fearful and / or reactive dog is the more likely outcome.

And once these and similar behaviours become established, they can be very difficult to overcome.

THE SOLUTION

Vince the Vet GRIEF RELIEF and FEARS AND ANXIETIES:

calm fight / flight reactions
relieve anxiety and stress
reduce sensitivity to triggers
facilitate socialisation and reintegration into the world

Used daily for long enough, alongside positive, reward based reconditioning exercises, they are highly effective in helping dogs develop new, healthier patterns of behaviour.

NOTE

For long-standing or severe problems the remedies typically need to be continued for 3-6 months or more, until improvements become firmly established.
Rescue Dog Support
SPECIAL COMBINATION PACK - £16 SAVING ON THE INDIVIDUAL REMEDIES
1 x 50ml bottle of GRIEF RELIEF liquid remedy
1 x 50ml bottle of FEARS AND ANXIETIES liquid remedy
unique Veterinary Formula remedies developed over 25 years
proven in clinical veterinary practice
100% natural ingredients
specially formulated to help dogs with traumatic backgrounds feel safe in the world, and learn how to socialise and form healthy relationships with people and other animals
HELPS WITH:
anxiety / reactivity
timid or withdrawn behaviour
desire to run away or isolate
sadness / depression
avoidance of interactions
difficulty socialising 
reluctance to make contact or accept affection
fear of being approached or touched
unwillingness or inability to form bonds with new human and animal family members
<--
There are no reviews for this product.
Leave a review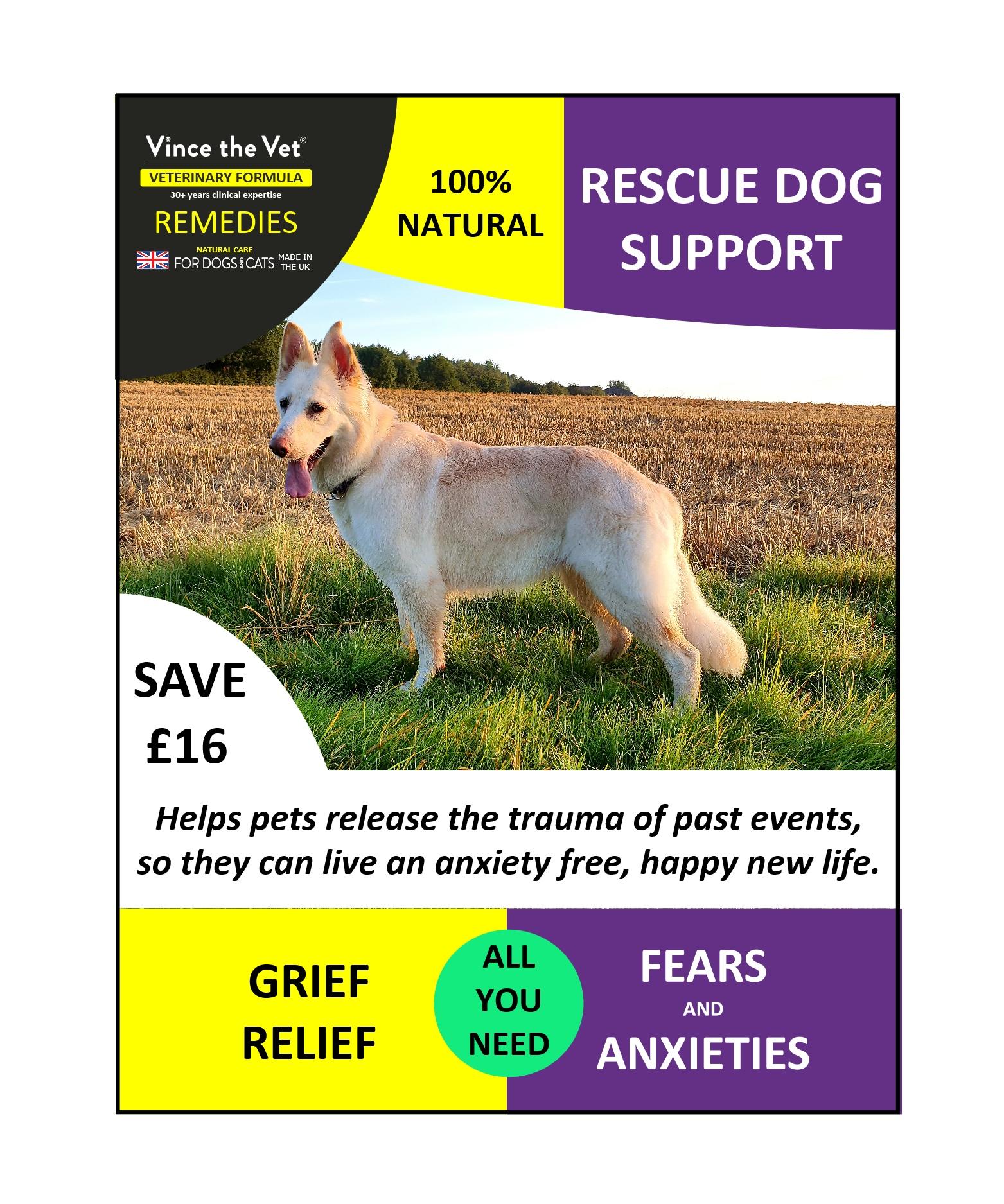 Rescue Dog Support
Recommend to a friend
The details
DIRECTIONS

DIRECTIONS

Give 2-3 drops of both remedies 3 times daily, by gently dabbing on the outside of the lips with a clean finger.

Alternatively, add to a morsel of food. 

Also sprinkle a few drops daily on bedding, toys, in sleeping areas and in places your pet likes to go when feeling anxious or insecure.

Use as long as necessary, alongside positive, reward based training until the desired patterns of behaviour are firmly in place.

Can be used indefinitely.

INGREDIENTS

GRIEF RELIEF: 

Spring water and alcohol (25%) plus extracts of St John's wort, Gold, Capsicum and Silica.

FEARS AND ANXIETIES: 

Spring water and alcohol (25%) plus extracts of Avena sativa, Passiflora, Valeriana officinalis and Yellow jessamine.

PRECAUTIONS

Store in a cool, dark place away from strong odours.

Keep out of sight and reach of children.

To be used as a dietary supplement and not as a substitute for appropriate veterinary care where necessary.
DELIVERY & RETURNS
Click here to see shipping rates at a glance.
Read our policy on refunds and returns here.
Customers who bought this also bought