Raw Beef + Beef Offal - 1kg
Raw Beef + Beef Offal - 1kg
There are no reviews for this product.
Leave a review
NOTE: raw food ordered must total one of the following quantities: 10kg, 24kg, 48kg and 96kg.
Please note: raw food is now dispatched Monday to Wednesday only, to avoid problems if orders are delayed in transit.
Know Your Raw.mp4 from Vince the Vet on Vimeo.
CLICK HERE to read Know Your Raw, and discover how mealtimes can become the stepping stone to a whole new level of health for your pet... and fewer visits to the vet
VETERINARY FORMULA RAW
lean beef meat
high quality beef heart, liver and kidney offal 
a healthy proportion of bone
produced in the UK using British livestock 
proven in clinical veterinary practice
single protein 100% beef recipe
tasty, easy to digest and nutritious
no additives or additional ingredients of any kind
Specially formulated to provide the perfect foundation for creating the best possible diet for all dogs at every stage of life - including those with special nutritional needs.
FREE VINCE THE VET RAW DIET PLAN
It's extremely important when feeding raw, to ensure that a complete, balanced diet is fed, which meets all nutritional needs and supports optimum health.
To receive step by step instructions on how to do this, complete the sign up form on the left (click + to open the tab).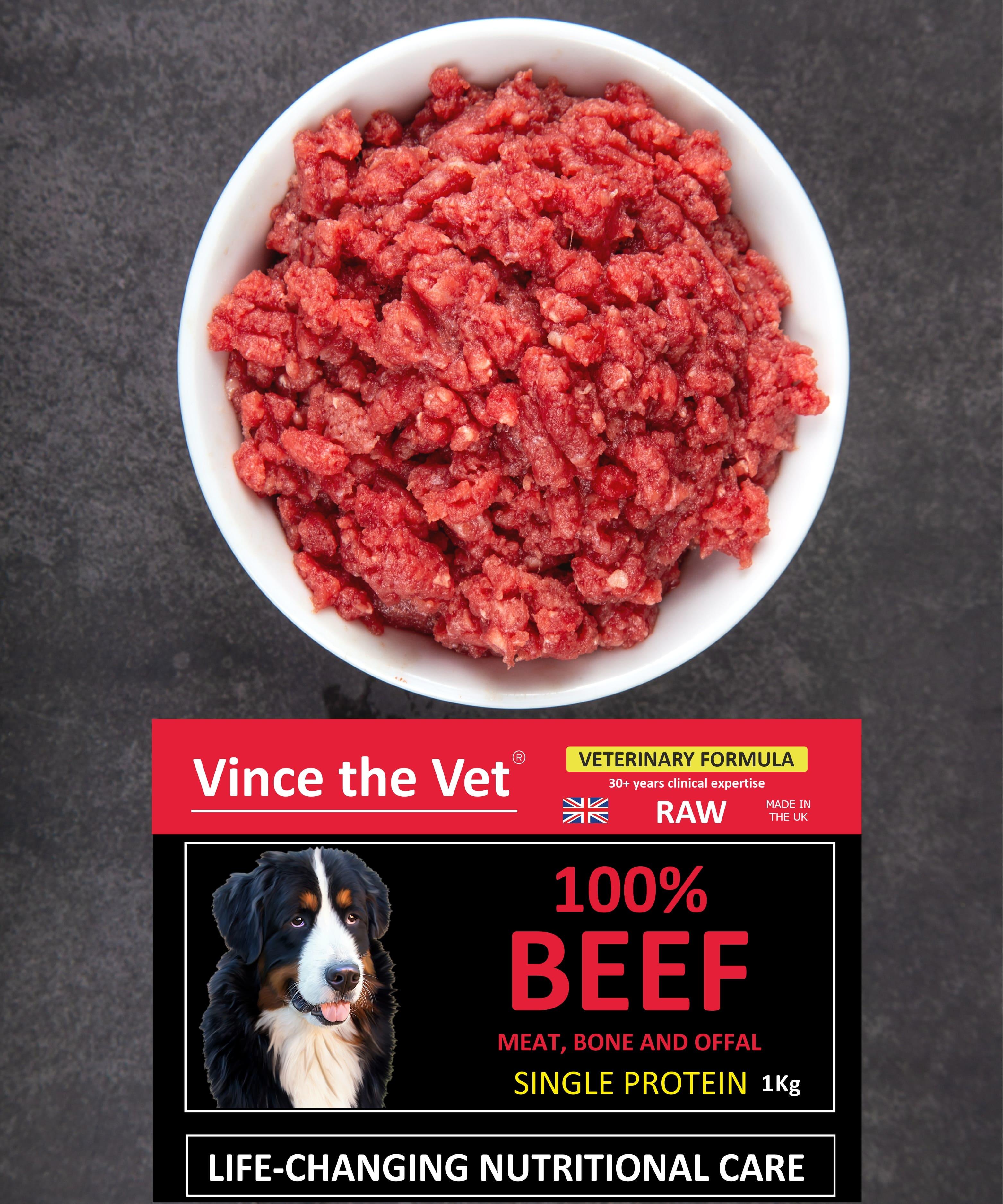 Raw Beef + Beef Offal - 1kg
Recommend to a friend
Ask a question about the product
Enter your question below
Previous Questions
Q:
I've just received your single protein beef raw diet. I have two healthy 1 year old dogs fed on Butternutbox. One dog devours the raw, however the other doesn't seem to like it much and reluctantly licks at it if it's not mixed well into his current food. Can I part feed it indefinitely until he gets used to it?
A:
Yes, you can do begin with. Another trick which helps dogs reluctant to switch to raw straight away, is to pour some freshly boiled water from a kettle onto the portion to be fed, stir for 20 - 30 seconds, then decant off any excess fluid and allow to cool to lukewarm before feeding. This partly 'cooks' the meat without affecting the bone content. One this is happily being accepted, it can be 'cooked less and less every 3 -4 days until being given fully raw.
Q:
Approximately how may Kcal are there per 100g of this product?
A:
There isn't any calorific information available for this product or any of the raw recipes Edward.
Q:
Hello I am interested in trying a single protein for my dog who has on-going anal gland problems and sometimes just itch related scooting. I am currently feeding her a raw food but it has veg added to it and I have seen on your FB page why this is not such a great idea. My only reservation is that unless I add water and pumpkin to her food she can become constipated so if she has single protein only is she likely to become more constipated? Also a totally different question - my partner is immunocompromised and the reason I have chosen the current raw food company we are using is that they promote how their food is tested for salmonella etc. so I have felt safer knowing this. We follow all the safe handling/prep etc. Please could you let me know if you do something similar? With many thanks Sue
A:
Hi Sue, if it helps to add water to your girls raw food, you can continue to do this without any problem. For those dogs who need a little extra fibre in their diet, adding Digestion to meals often helps.
Yes, our raw food is regularly tested for Salmonella and other potentially pathogenic microbes, in accordance with all relevant government regulations. More on this can be found here - know your raw.
Q:
Can I slightly cook the food as a transition step to raw? I currently cook meat at home for the dogs and am looking for a more affordable supply of meat than supermarkets
A:
Hi Priya, yes you can do the following:
Pour some freshly boiled water from a kettle onto the portion to be served.
Stir for 30 seconds, and then tip off any excess fluid.
Allow to cool to just warm before serving.
This partially 'cooks' the meat without affecting the bone content.
Then, once this is being readily accepted, the raw can be 'cooked' less and less in stages, by tipping the hot water off after 20 seconds, then 10, until feeding completely raw.
We hope this helps, and do let us know if you need any more assistance.
Q:
I would like to start my 14 month German shepherd on raw food, can you advise what portion size per day of your raw food she will need, she weighs 30 kg? Thank you.
A:
Hi Debs, a typical GSD of this age and sex, would need approximately 750g daily, divided between breakfast (1/3) and dinner (3/4). This quantity however, is best adjusted up or down going forward, to maintain an ideal body condition.
If you would like us to provide a free step by step feeding guide, designed to ensure that a complete, balanced diet is fed, which meets all nutritional needs and supports optimum growth and development, please complete and submit this online questionnaire, and we'll be happy to help.
Q:
My Cockapoo is 4 years old, 11 kg & spayed, she has one and a half-hour exercise daily . At present she eats nature's menu chicken and tripe mince or beef and tripe mice which is fairly easy to weigh into portions for her. Is the meat delivered frozen or fresh & is the bone content ground down and not in chunks
A:
Hi Lesley, the meat is delivered frozen, and ready to go straight in the freezer. We use rib bone which is softer than other bones, and it is ground down using a 10mm plate so that it is not present as large pieces.
Q:
Which product would you recommend for a Great Dane and how much would he need based on his weight of 85kg and lastly would you give Homs alone or add vegetables…
A:
Hi Victoria, if you'd like to complete and submit this online questionnaire to provide some additional background information, we would be happy to advise.
The details
DIRECTIONS

Transition from the current diet to raw gradually over the course of a week, and feed this alone (no tit bits, treats, supplements or other foods) for 10 -14 days to make sure it suits your dog. 

Next, if the stools remain well-formed and health otherwise good, start to add a few carefully selected, 100% natural, nutrient dense supplements one at a time, to ensure a complete, balanced raw diet is fed, which meets all nutritional needs at your dog's stage of life and promotes optimum health.

We recommend Veterinary Formula Digestion to begin with followed 2 weeks later by Vitality and then Immunity.

 

INGREDIENTS

Composition:

Minced beef meat 60%, beef bone 10% and beef offal (heart 20%, liver and kidney 10%).

Typical analysis:

Moisture: 71.8%, Protein: 15.9%, Fat: 15.0%, Ash: 1.1%, Fibre: 0.1%

Product description:

A complimentary food for working dogs. 
DELIVERY & RETURNS
Click here to see shipping rates at a glance.
Read our policy on refunds and returns here.
Customers who bought this also bought