Raw Beef + Beef Offal - 1kg
Raw Beef + Beef Offal - 1kg
NOTE: raw food ordered must total one of the following quantities: 10kg, 24kg, 48kg and 96kg.
VETERINARY FORMULA RAW
lean beef meat
high quality beef heart, liver and kidney offal 
a healthy proportion of bone
produced in the UK using British livestock 
proven in clinical veterinary practice
single protein 100% beef recipe
tasty, easy to digest and nutritious
no additives or additional ingredients of any kind
Specially formulated to provide the perfect foundation for creating the best possible diet for all dogs at every stage of life - including those with special nutritional needs.
FREE VINCE THE VET RAW DIET PLAN
It's extremely important when feeding raw, to ensure that a complete, balanced diet is fed, which meets all nutritional needs and supports optimum health.
To receive step by step instructions on how to do this, complete the sign up form on the left (click + to open the tab).
<--
There are no reviews for this product.
Leave a review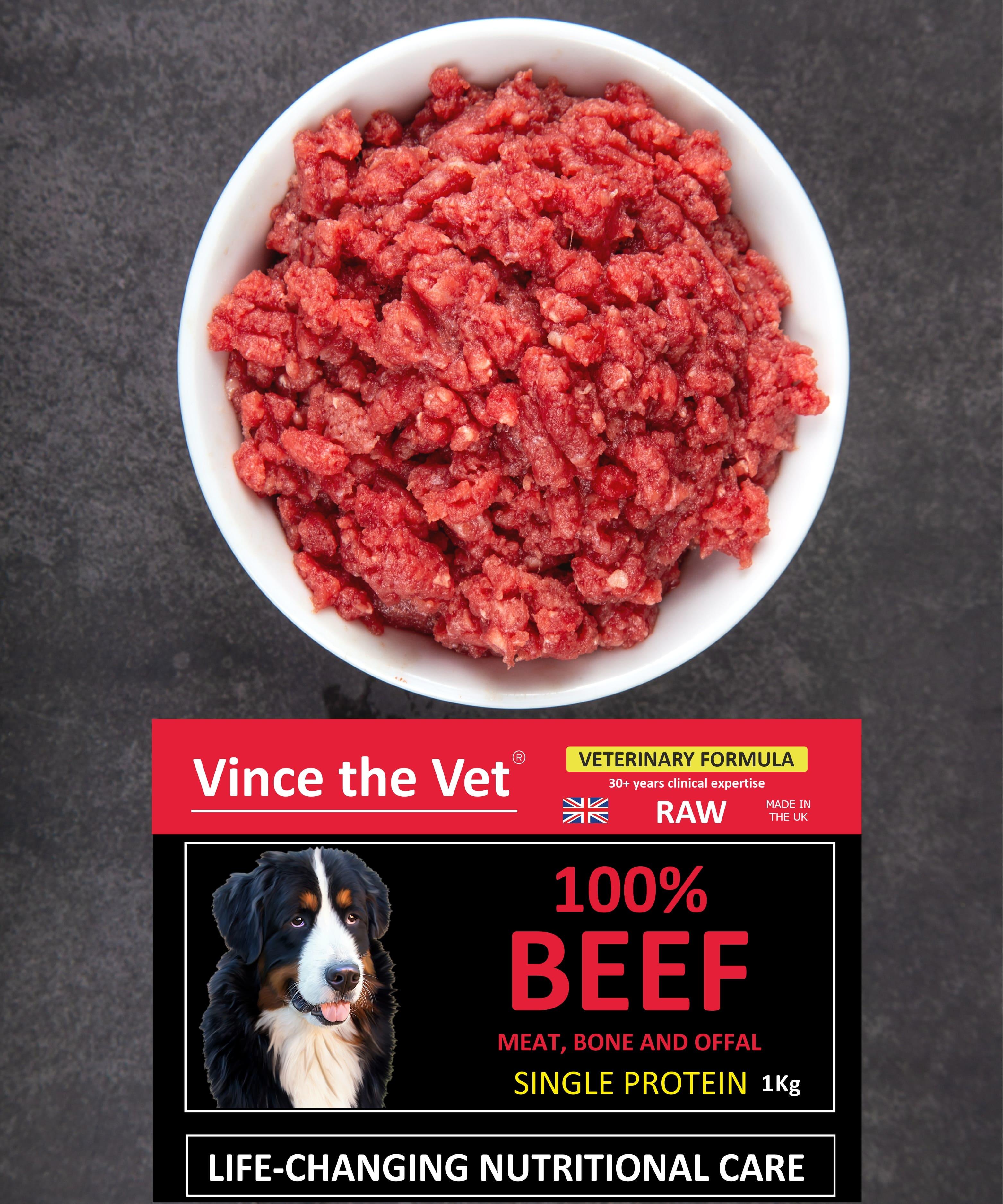 Raw Beef + Beef Offal - 1kg
Recommend to a friend
The details
DIRECTIONS

Transition from the current diet to raw gradually over the course of a week, and feed this alone (no tit bits, treats, supplements or other foods) for 10 -14 days to make sure it suits your dog. 

Next, if the stools remain well-formed and health otherwise good, start to add a few carefully selected, 100% natural, nutrient dense supplements one at a time, to ensure a complete, balanced raw diet is fed, which meets all nutritional needs at your dog's stage of life and promotes optimum health.

We recommend Veterinary Formula Digestion to begin with followed 2 weeks later by Vitality and then Immunity.

 

INGREDIENTS

Composition:

Minced beef meat 60%, beef bone 10% and beef offal (heart 20%, liver and kidney 10%).

Typical analysis:

Moisture: 71.8%, Protein: 15.9%, Fat: 15.0%, Ash: 1.1%, Fibre: 0.1%

Product description:

A complimentary food for working dogs. 
DELIVERY & RETURNS
Click here to see shipping rates at a glance.
Read our policy on refunds and returns here.
Customers who bought this also bought