Bladder Support 50ml
raiting star
raiting star
raiting star
raiting star
raiting star
Mabel is a 13.5 year old spayed Golden Retriever and she had intermittent urinary incontinence. Her ?pantaloons? would be soaking wet and at times she would stink of urine, requiring frequent baths to keep her clean. We decided to try Dr MacNally?s Bladder Support and were informed it could take up to two to three months to see a difference. It did take a while, perhaps six to seven weeks, and now Mabel has been completely dry for several weeks. We are absolutely delighted as to how well she has responded to this tincture.
raiting star
raiting star
raiting star
raiting star
raiting star
This is just what my cat needed to help her bladder
raiting star
raiting star
raiting star
raiting star
raiting star
When Magic first started on Bladder Support, she was wetting her bed every night. This wasn?t nice for her (nor us having to wash her bed daily). She was also put on Incurin tablets. She started being dry so after a few weeks / months, I slowly reduced the Incurin. She was on Bladder Support twice a day, few drops in each of her meals. Magic continued to be dry, so I started reducing Bladder Support. She now only has this in her tea and has been dry for almost two years (fingers crossed it continues). Thanks you!
Leave a review
1 x bottle of liquid remedy
unique Veterinary Formula remedy developed over 25 years
proven in clinical veterinary practice
100% natural ingredients
specially formulated to maintain normal bladder control, and healthy urine
HELPS WITH:
involuntary leaking of urine*
maintaining a healthy bladder in a pet prone to infections or the formation of urinary crystals
*Typically needs to be given for 4-6 weeks before the full effects are seen.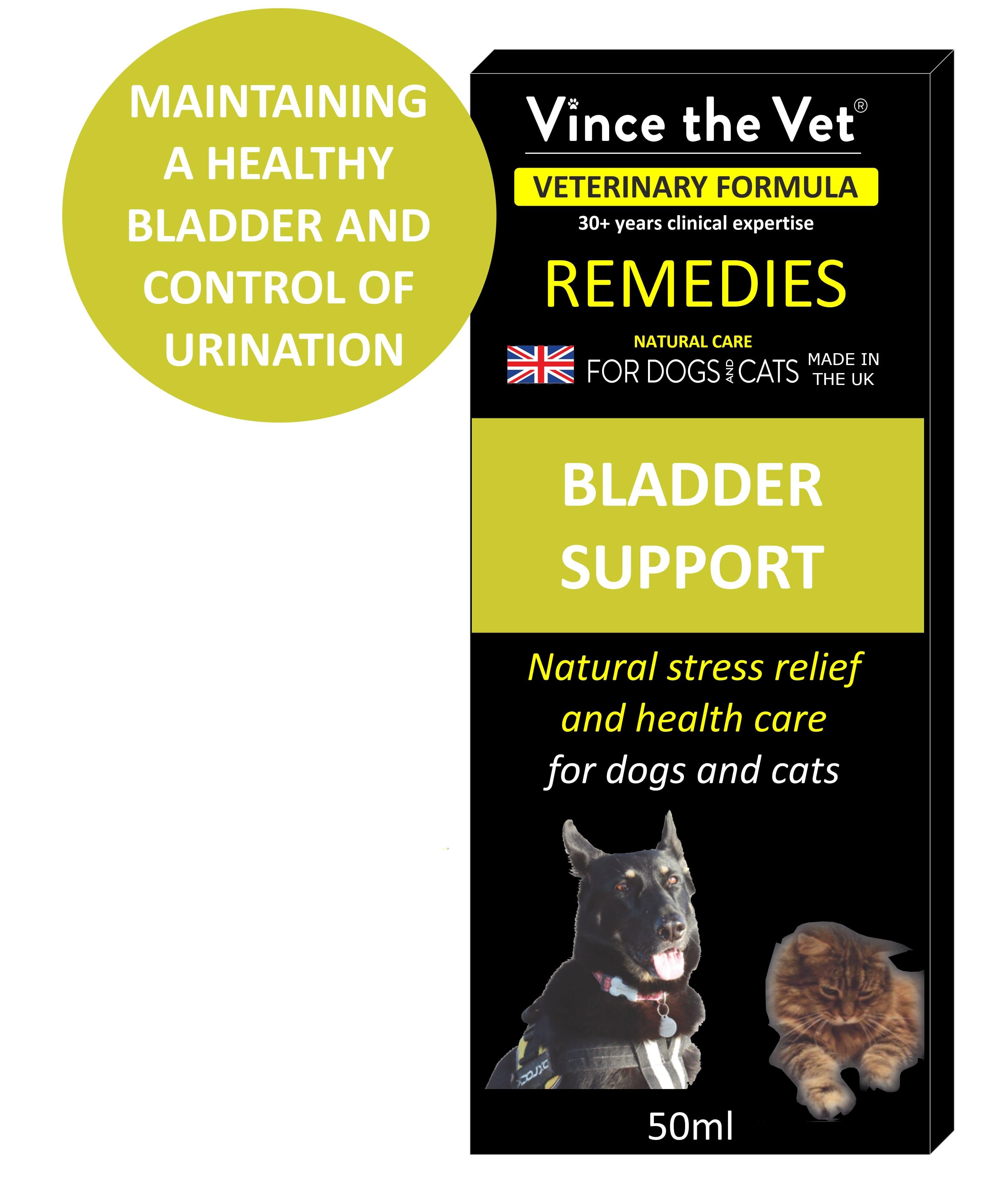 Bladder Support 50ml
Recommend to a friend
Ask a question about the product
Enter your question below
Previous Questions
Q:
Can this be used with 5mg Vetmedin please?
A:
Yes, Bladder Support is safe to use alongside any medication prescribed by a vet.
Q:
I have very recently started using the digestive drops and I have come back to get some more and some other ranges but I am very confused as I can't see any drops and the alternative products - I can't tell are they powder or pills? My dogs are very fussy with both so I was hoping to get drops.
A:
Hi Jane, all the remedies are in liquid form.
These are supplied in 50ml dropper bottles, so that a few drops can simply be added to food as directed.
The supplements are all powders, and are supplied in small and large tubs of the specified weight in grams. The appropriate amount can be mixed into any wet meals.
If you scroll down to the heading 'THE DETAILS' on the left hand side of each product page, and click on the + to expand the hidden panel, the information about the make up of each supplement or remedy can be found there.
The details
DIRECTIONS

Give 2-3 drops 3 times daily, by gently dabbing on the outside of the lips with a clean finger.

Alternatively, add to a morsel of food. 

Also add a little to drinking water daily. 

Can be used indefinitely. 

INGREDIENTS

Spring water and alcohol (25%) plus extracts of Berberis vulgaris, Equisetum, Plantain and Verbascum thapsus.

PRECAUTIONS

Store in a cool, dark place away from strong odours.

Keep out of sight and reach of children.

To be used as a dietary supplement and not as a substitute for appropriate veterinary care where necessary.
DELIVERY & RETURNS
Click here to see shipping rates at a glance.
Read our policy on refunds and returns here.
Customers who bought this also bought